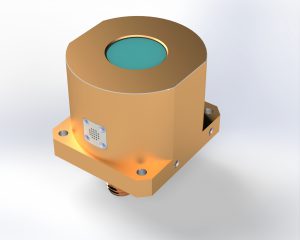 Ruggedized Puck Camera
Ordering# 800-0000681-000
The RBC-D4E camera is a ruggedized and compact High Definition color digital video camera. The camera is well protected inside an environmentally sealed aluminum housing, finished in Lusterless Desert Tan and with a scratch resistant sapphire window. The housing provides complete EMI protection, and can "breathe" through a humidity filter, minimizing maintenance requirements during long term storage.
The camera has a dual concurrent legacy analog (NTSC/PAL) video output, which allows the cameras to support legacy installations with a path to digital high definition video output.
The concurrent SDI video output supports SMTPE standards supporting 1080p60, 1080p50, 1080p24, 1080i60, 720p60, 720p30 digital video output modes.